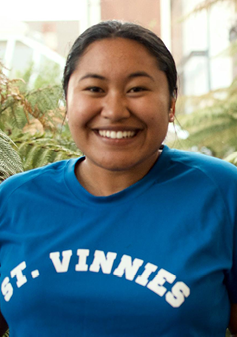 Latayvia Tualasea Tautai is a young Pacific leader from Auckland.
In 2016, she was the head girl at Saint Dominic's College in Henderson and the winner of the National Council of Women's Year 13 School Girl Speech Competition.
She is currently a second-year university student, studying on a University of Auckland Pacific Excellence scholarship towards conjoint Law and Arts Degrees, majoring in Pacific Studies and Political Studies.
She has lived experience of the welfare system, growing up in a household with a parent receiving main benefits.
Miss Tautai is an active volunteer in the Auckland region – volunteering at organisations including St Vincent De Paul, Mt Eden Prison, Auckland City Mission, and James Liston Hostel. She is the youth leader on the PACIFICA Inc West Auckland Executive, a Recipient of 2018 NZ youth Award for Leadership and on the Whau Youth Board.